Bangkok has loads of children's activities – more than anywhere else in Thailand, most probably. From 'edutainment' venues for kids to learn while they play, to exciting theme parks, games arcades and exciting outdoor attractions, there is something for every type of child. You can even surf in Bangkok! Truly, there is just as much fun and adventure to be had for the little ones as for mom and dad, and the possibilities are endless.
This list details the best things for children to do in Bangkok, with a handy age range so you can find which ideas are suitable. If you like the look of any particular activity, click to find more details. Check out what the big city has in the way of kids activities below.
If you are looking for activities to enjoy together with your children, check out our list of things to do as a family.
Interested in this tour? Book it here.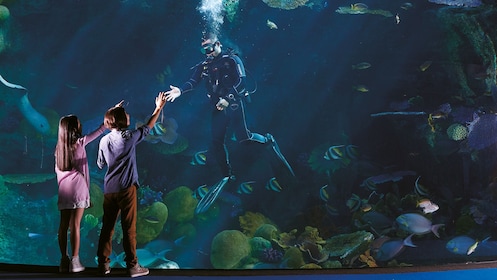 per adult
Free cancellation
Book
Kidzania is the most innovative addition to the 'edutainment' scene in Bangkok. This is unlike anything we have seen before and the level of fun has been raised to a brand new level. Kidzania allows children to try out a range of activities in a model city. Popular 'jobs' include playing doctor at the miniature hospital, fighting fires, policing the streets or learning how to make sushi like a master chef. Read More...
Opening Hours: Weekdays 10.00 - 17.00 ? Weekend and Holidays 10.30 - 20.30
Location: 5th floor of Siam Paragon
BTS: Siam
Bounce Inc. Bangkok is an action-packed trampoline park and climbing centre. The huge space is popular with children and teens, and is open to everyone aged three and older (young children require adult supervision). There are trampolines of all kinds: some have padded walls so you can practice your Park Coeur flips and jumps, others are slanted at a 45 degree angle, others land into a crash mat so you can attempt crazy tricks without even the slightest worry of getting hurt. Read More...
Opening Hours: 10:00-22:00 daily
Location: 5th Floor, The Street Ratchada (Formerly Robinsons Department Store)
MRT: Cultural Centre (exit 4)
Tel: +66 (0)2 014 2446
A classic children's activity that is available in several locations throughout Bangkok is ice skating. Bangkok has several great ice rinks - one even that is Olympic-sized. If you're a bit wobbly on skates, you can opt to take a lesson or even use one of the penguin-shaped stabilisers that help beginners keep their balance. Read More...
Laser games in Bangkok have been few and far between in recent years so when Lazgam opened we were happy to have a family friendly, all-weather activity to try. Games last 15 minutes and really get the heart racing. Located on the fifth floor of the Holiday Inn Sukhumvit, Lazgam Bangkok is spread out across two floors within a maze of walls and partitions. There are several types of game to play but the most common are Teams, red vs blue, or Solo Play, which means every man for himself. Other game types include Alien Invasion when one player starts as the alien and has to shoot people to turn them into aliens too. Lazgam Bangkok is open to anyone aged 7 and over. Read More...
Opening Hours: 12:00-22:00
Location: 5th floor Holiday Inn Sukhumvit Hotel, Sukhumvit Soi 22
BTS: Asok or Phrom Phong
Address: 5th floor Holiday Inn Sukhumvit Hotel, Sukhumvit Soi 22
Tel: Asok or Phrom Phong
Price Range: 550 baht (650 baht after 18:00 or on weekends)
5
Funarium
Ages: toddlers and children up to around 8 years old
If you want a guaranteed hit for the small children in your family, then Funarium Indoor Playground in Bangkok is the place to go. This large entertainment area may look like a warehouse from outside, but inside you will you will find 2,000 m2 of activities, with a large climbing structure, little kids soft play area, sand and water area as well as an arts and craft centre and baking station. Read More...
Opening Hours: 09:00 – 19:00 daily
BTS: Phrom Phong
Address: 111/1 Sukhumvit 26, Bangkok
Tel: +66 (0)2 665 6555
The Children's Discovery Museum Bangkok offers a wealth of fun and educational activities to keep the kids occupied for a whole day, such as digging up dinosaur bones in the archaeological site and creating giant bubbles from inside them! The museum encourages a hands-on approach to learning; with interactive displays it calls a 'discovery learning process'. Read More...
Opening Hours: 10:00 - 16:00 daily
Location: Chatuchak Park
BTS: Mo Chit
Tel: +66 (0)2 246 6144
A simulation flight is an extra-special gift for young children who dream of being pilots. The experience feels so realistic that the cockpit in Bangkok has even been used in films and TV shows, which makes it too challenging for very young children, but there is a trusty co-pilot sitting alongside you throughout to lend a helping hand. Read More...
Location: Gateway Ekamai, 2nd Floor, Sukhumvit
BTS: Ekkamai
Tel: +66 (0)2 048 9922
Price Range: A 30 minute flight experience costs 4,550 baht
Snow Town Bangkok is an indoor themed village and play area with 30-40 cm of artificial snow located in Gateway Ekkamai shopping mall. Inside the air conditioned hall there is a Main Street with Japanese restaurants, shops and a playground. There is also a modest slope with sleighs and skis for rent so you can recreate the sensation of being high up in the mountains of Hokkaido. Read More...
Opening Hours: Monday to Friday 11.00 - 22.00, Saturday - Sunday and Holidays 10.00 - 22.00
Location: Fifth Floor, Gateway Ekkamai, Sukhumvit Road
BTS: Ekkamai
Price Range: From 80 baht for young children, 100 baht for older children and adults (gear rental and activities require additional fees)
Zanook Wake Park is the best downtown Bangkok wakeboarding lake, with the fun addition of a floating, inflatable playground in the centre of the lake. Whether this is your first time trying to wakeboard or you are an experienced rider, Zanook Bangkok is the best place to strap on a board and carve up the water close to central Bangkok (it's close to Bang Wa Station on the Silom line). Read More...
Address: 77 Bangbon 3 Rd, Bangbon, Bang Wa, Bangkok
Tel: +66 2 104 9050
Price Range: 400 baht per day
Dinosaur Planet Bangkok is a theme park dedicated to prehistoric beasts, from the snarling T-rex to packs of Velociraptors. The amusement park is located in the Phrom Phong area of Sukhumvit and features up to 200 life size models of popular dinosaurs. It's quite a compact space with a couple of exhibits and a central Ferris wheel. Read More...
Opening Hours: 11:00-20:00 daily
Location: Sukhumvit Road, Phrom Phong (next to Benjasiri Park)
BTS: Phrom Phong
Rate This Place:
( votes)